Duck Dynasty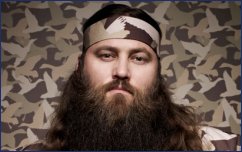 Willie "Boss Hog" Robertson says he ran into President
Barack Obama
and caught up with him at the State of the Union Address last month.
Full Story


Duck Dynasty star Willie Robertson is going to be in attendance in Washington, D.C. tonight when President Barack Obama addresses the nation at the State of the Union Address.

Duck Dynasty will return on A&E tonight with a new episode for the first time since its recent controversies.

The Robertson family has found another way to cash in on their Duck Dynasty success.

Duck Dynasty stars Willie Robertson and Korie Robertson are apparently ready to put the past behind them and move forward with the filming of their family's show.

Duck Dynasty stars Willie Robertson and Korie Robertson will be opening up about the controversy surrounding family patriarch Phil Robertson on New Year's Eve.

A new Phil Robertson controversy has surfaced freshly off the heels of A&E reinstating his role on Duck Dynasty after briefly suspending him for making offensive anti-gay comments.

Phil Robertson's Duck Dynasty suspension has been lifted by A&E after being in effect for only one week.

Phil Robertson has bought his wife a wedding ring.

Phil Robertson is refusing to take back any of his anti-gay comments despite public outrage and A&E's decision to suspend the reality TV star from Duck Dynasty.

Duck Dynasty's Robertson clan says they can't envision continuing the smash-hit reality series without Phil Robertson -- suggesting the show might end unless A&E lifts its suspension of the family patriarch.

A&E has suspended Phil Robertson indefinitely from Duck Dynasty due to offensive anti-gay comments he had made in a recent interview with GQ magazine.

Duck Dynasty star Phil Robertson feels homosexuality is on the same level as terrorism, alcoholism and bestiality.

Kellie Pickler. Carrie Underwood, and the stars of Duck Dynasty will take part in Macy's Thanksgiving Day Parade in New York.