Duck Dynasty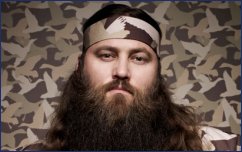 The person who officiated Jason Aldean and Brittany Kerr's March 21 wedding in Mexico was a Duck Dynasty star. Full Story


Phil Robertson has made headlines again for making inflammatory comments about a person's religion or lack thereof.

Duck Dynasty's famous Robertson family is taking their story to the stage, as they've convinced a Broadway team to create a musical in Las Vegas.

Duck Dynasty's Jep Robertson posed for pictures in his hospital bed and joked on Twitter after having a seizure while deer hunting last week.

Duck Dynasty star John Luke Robertson has gotten engaged at the young age of 19.

A Duck Dynasty video game is in the works from Activision that will let players "become a Robertson."

Phil Robertson believes sexually transmitted infections are a punishment for homosexuality and other forms of "sexual immorality."

Duck Dynasty star Sadie Robertson has reportedly signed on to compete on Dancing with the Stars' upcoming nineteenth season.

Duck Dynasty patriarch Phil Robertson is continuing to defend and preach his beliefs on how homosexuals are "sinners" and the media is partly to blame for its false coverage.

Duck Dynasty star Si Robertson released a six-track country EP titled "Me and My Smoking Hot Honey."

Duck Dynasty stars Jase and Missy Robertson have revealed they had a miscarriage.

Duck Dynasty's women spoke out about the influence of fame and more in a recent interview with Good Morning America.

Duck Dynasty star Sadie Robertson has revealed she intends to use her fame to promote family values.

Willie "Boss Hog" Robertson says he ran into President Barack Obama and caught up with him at the State of the Union Address last month.